Happy Taurus season, Twin Flames! Between April 20 and May 20 this year, the collective consciousness is being energetically transformed as more Twin Flames reunite in the physical, and even more wake up to their true Divine nature.
Surprisingly, the collective consciousness of the planet is feeling much more receptive to Twin Flame love than we've seen in previous years. The realization that everyone is indeed a Twin Flame is settling more deeply into the collective mind. Love is most definitely in the air!
Subsequently, more and more spiritually-minded men and women are finding the Teachings of Union and finally getting the Twin Flame results they have been seeking. It's true that the moment you're ready is the same moment your Twin Flame is ready.
The bull of the Zodiac, Taurus, reminds us that it's okay to go after what we truly want. Surrender combined with persistent effort helps us to align with the Divine, and move forward all the way until our dreams come to full fruition.
What's in store for your Twin Flame Union this new season? Read on to find out!
The Collective Energy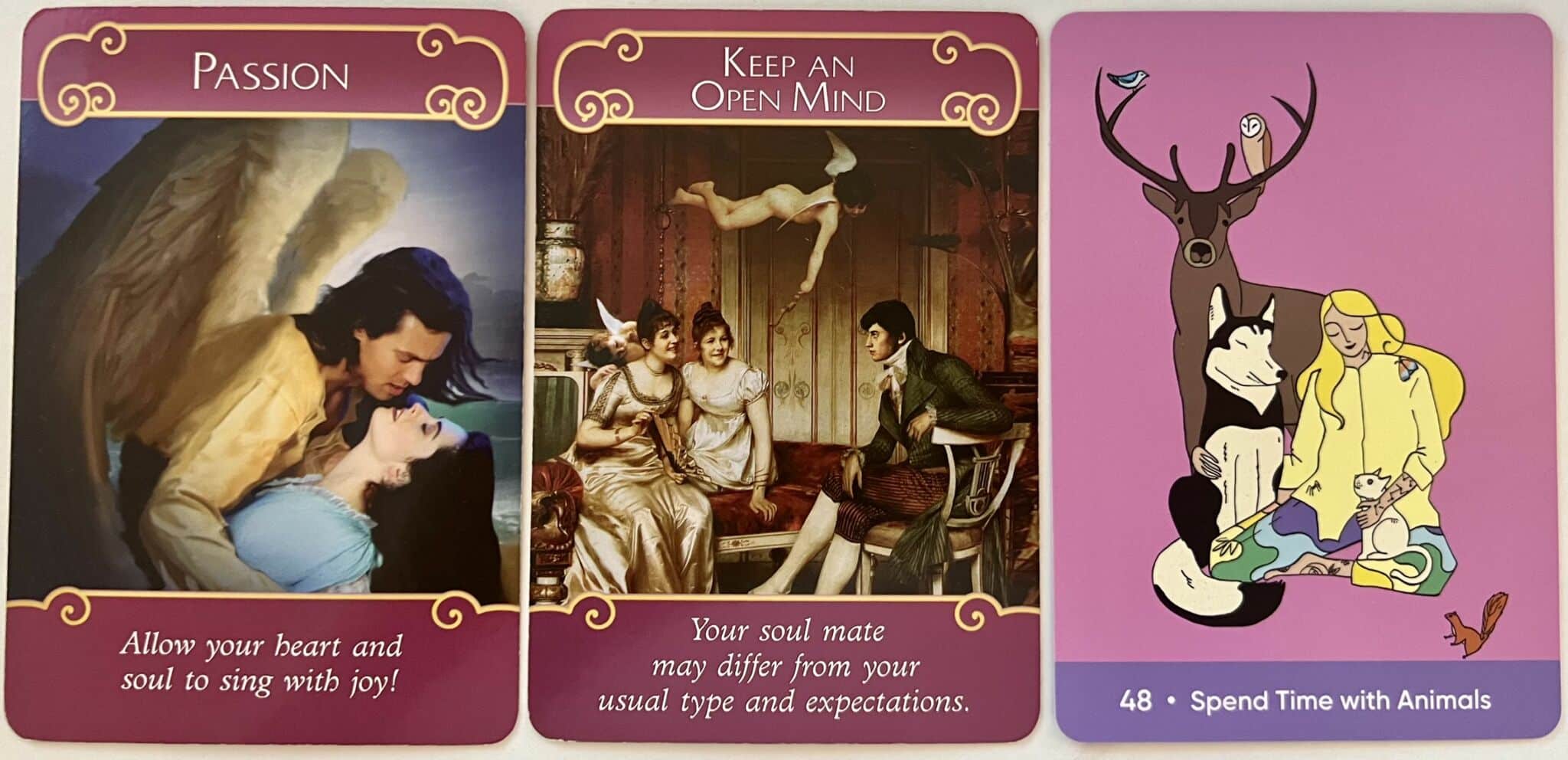 These next few weeks, the collective consciousness is energized by Taurus's naturally grounding and focused energy. Deeper passion to pursue our desires and achieve our goals will bring about a renewed sense of motivation and drive. Feelings of strength and hopefulness may inspire us to take action toward our dreams.
However, it is important to keep an open mind during this time. We may need to be receptive to new opportunities and ideas that come our way. It is possible our initial plans may not work out as we had hoped, and we need to be adaptable as plans may change. By keeping an open mind, we can embrace the unexpected and make the most out of every situation.
To ensure that we maintain balance and harmony, we should be spending time in sunshine, nature, and ideally with our furry pet friends. Animals help us to ground and connect with the Earth's energy, enabling us to navigate any challenges more easily. Spending time with animals is an excellent way to recharge our batteries and connect more deeply with our inner selves.
What will your Twin Flame Union face this month? Scroll down to your sign to find out!
Aries – True Love Is For You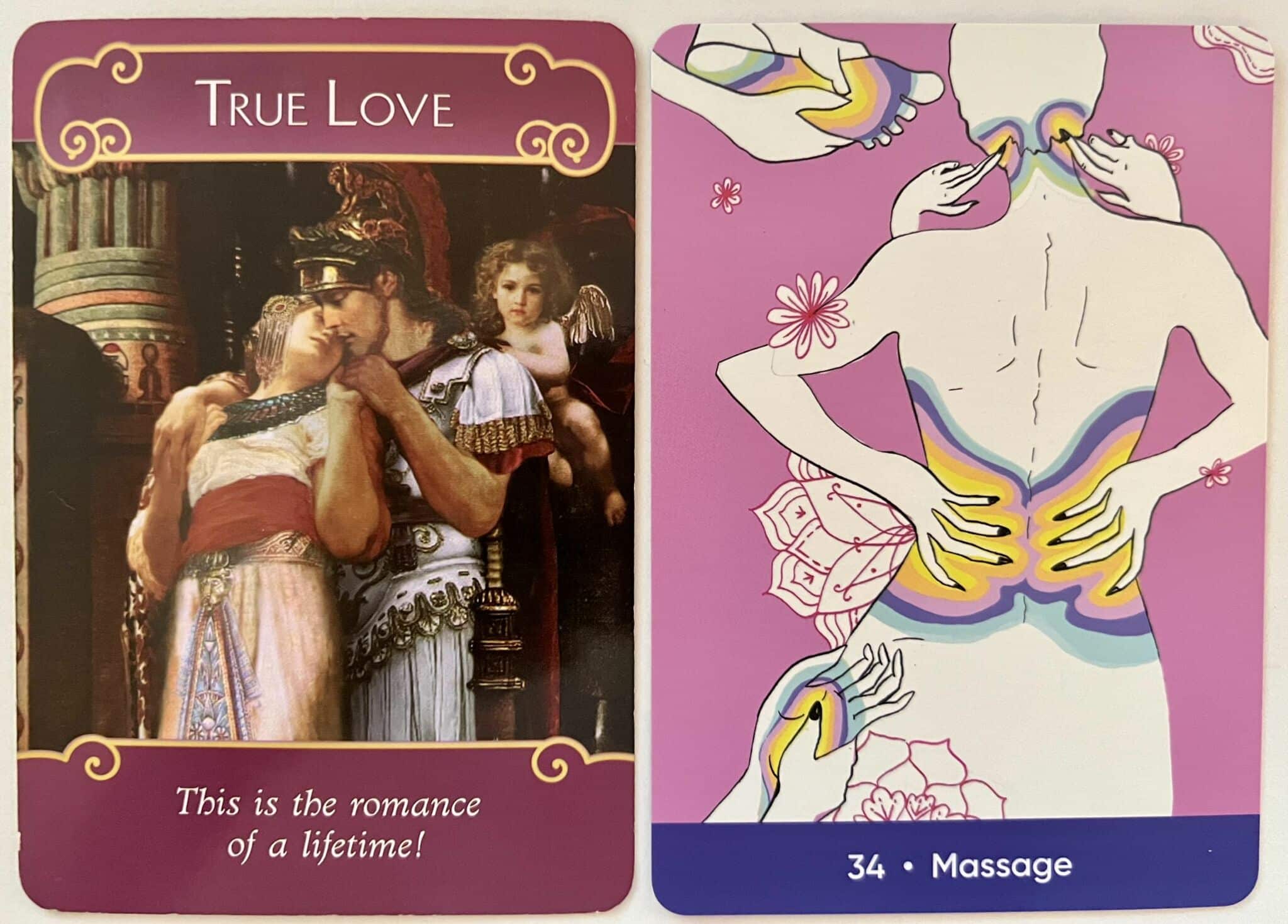 Aries (March 21 – April 19)
Theme Card: True Love
Self-Care Card: Massage
There's no doubt about it! This Taurus season, Aries, you will be experiencing a deeper, closer connection with your Twin Flame. The True Love card confirms – You are ready for Twin Flame Union. You may feel a little nervous to begin receiving the Love of your dreams, but not to worry – everything happens in perfect alignment with the Divine. Consider diving deeper into your Love List to affirm the qualities and characteristics of the perfect person in your heart.
As for self-care, treat yourself to a massage or any form of physical touch that helps you feel relaxed and loved. Be prepared to release tension or potential trauma energy that has been stored in your body. Caring for your physical body is a great way to love and appreciate yourself.
Taurus – Flowing With Love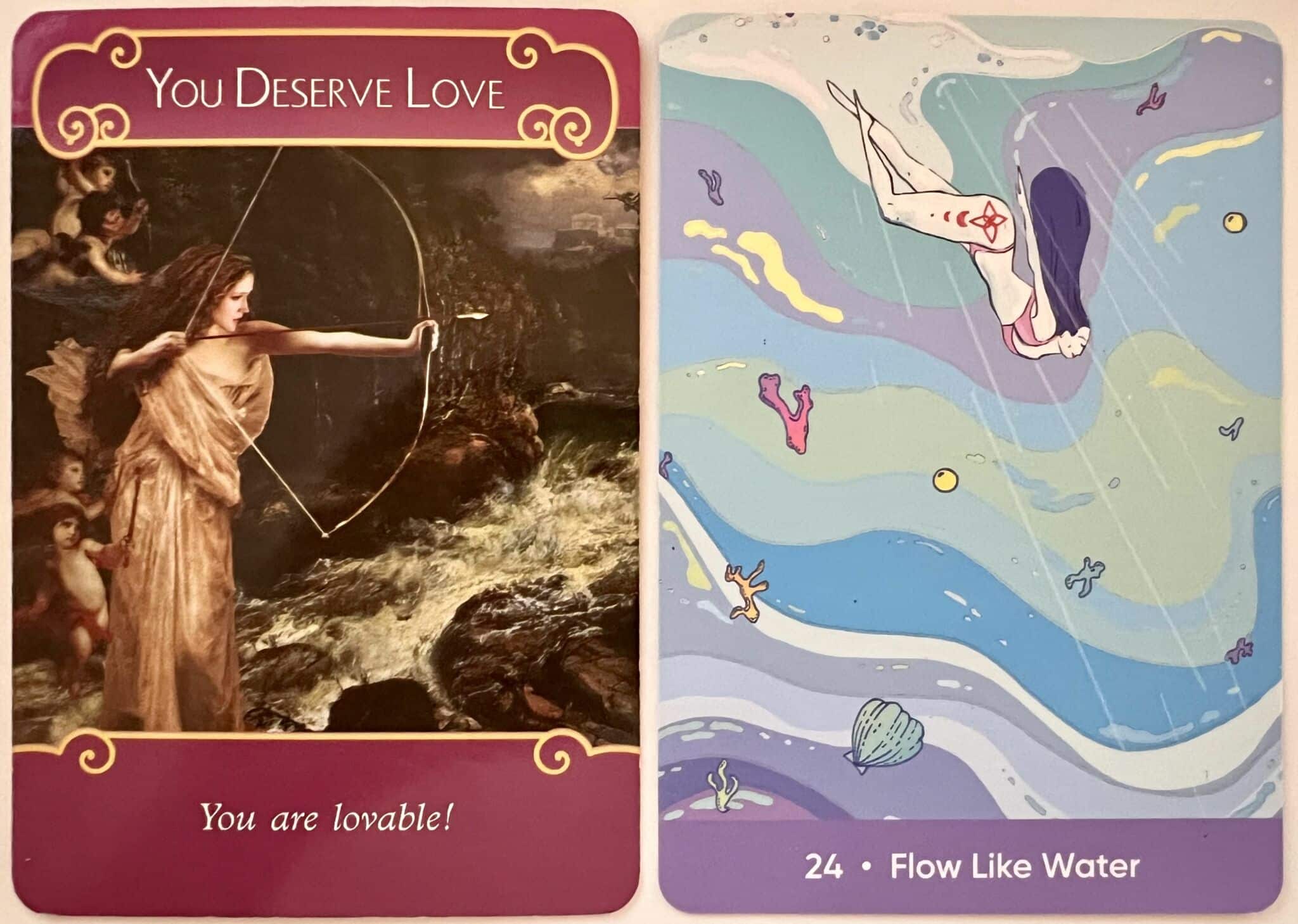 Taurus (April 20 – May 20)
Theme Card: You Deserve Love
Self Care Card: Flow Like Water
It's your time to shine, Taurus! As a Taurus, you already know your worth, but this season, it's time to reaffirm it. The You Deserve Love card is a reminder that you're worthy of all the Love and support you so easily give to others, but don't always find easy to give to yourself. Take this reading as your sign – you never have to settle for less than you deserve. If you're in Union, communicate your needs and boundaries to your partner. If you're single, focus on self-love and inner child healing.
The Flow Like Water card encourages you to be in the flow of your feelings this season, and being more receptive to the Love and abundance that wants to come your way. The question is – are you open to receiving it?
Gemini – Tune Into Childlike Wonder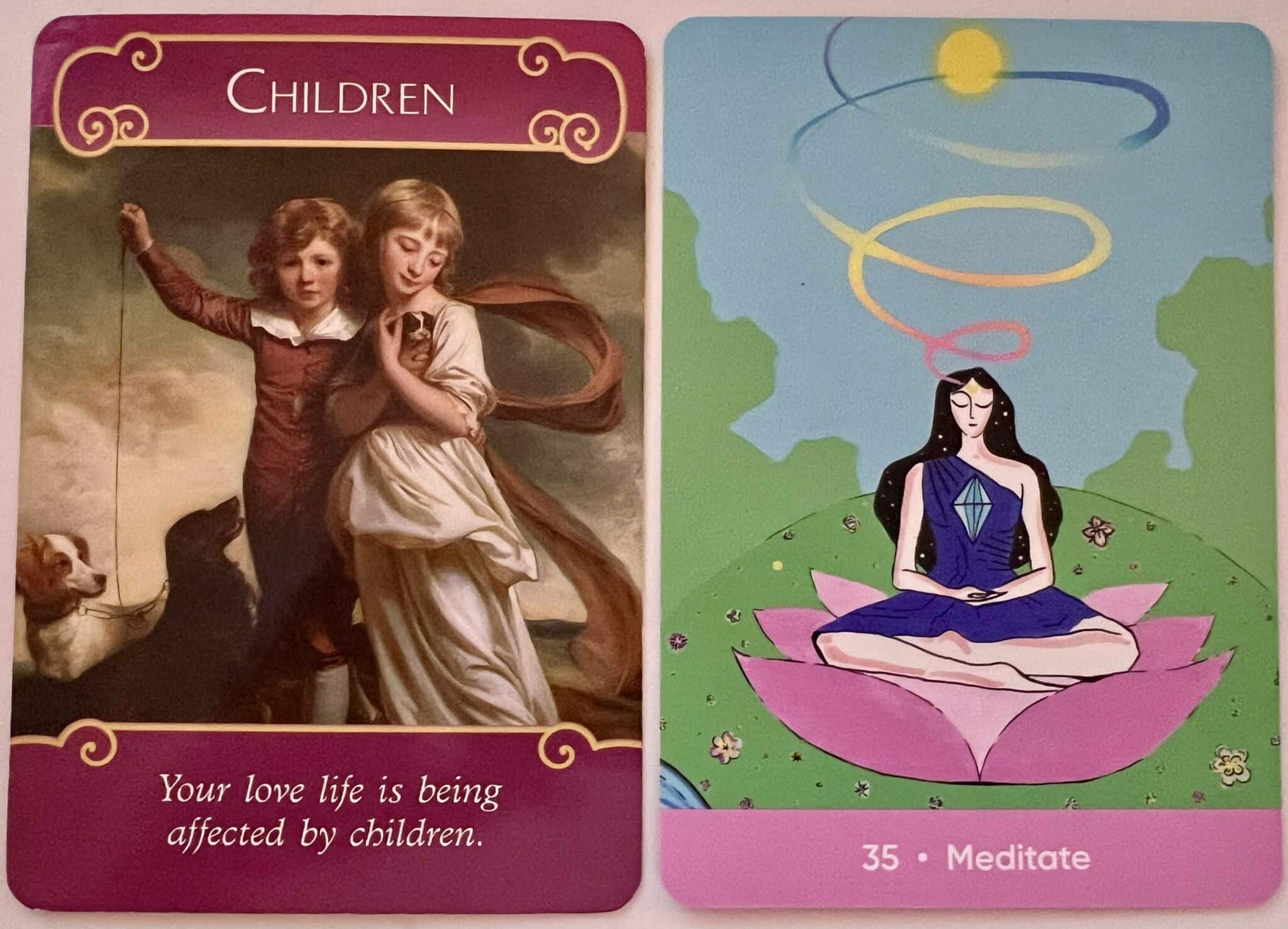 Gemini (May 21 – June 20)
Theme Card: Children
Self Care Card: Meditate
This Taurus season, Gemini, you'll connect more deeply with your Twin Flame in the area of playfulness and creativity. An inner child healing may occur, which will lead to deep Love and healing. The Children card can also indicate moving deeper into the realm of family or children with your Twin Flame, or sharing fun new experiences together. Whether you have children of your own or not, embrace the childlike wonder and sense of curiosity within you.
The Meditate card is a nice reminder to balance your energy. How does your Twin Flame Union feel to you? Visualization exercises will help you develop a calmer inner sanctuary. The Twin Flame meditations by Jeff and Shaleia are also perfect for clearing spiritual blockages and deepening your peace.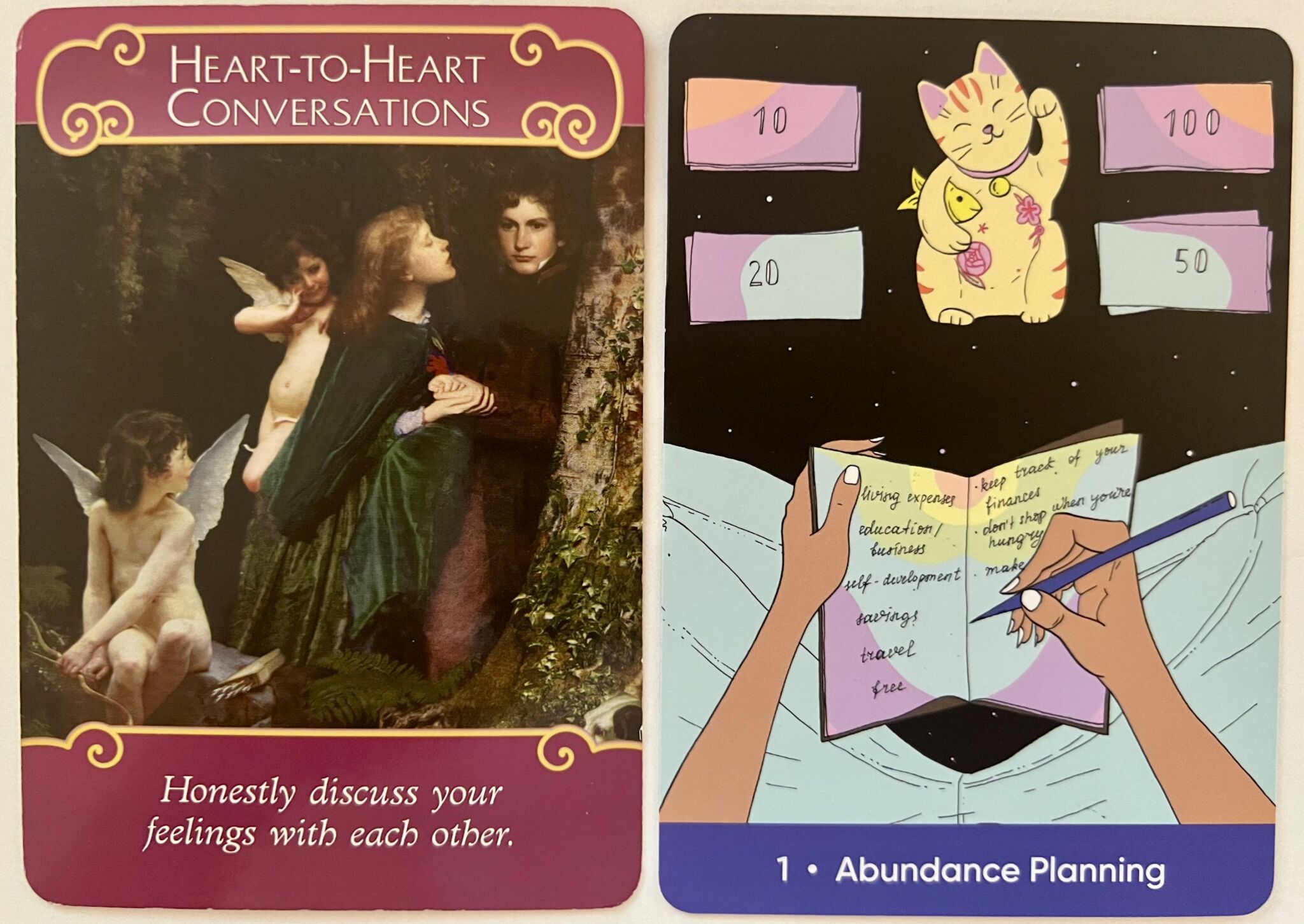 Cancer (June 21 – July 22)
Theme Card: Heart to Heart Conversations
Self Care Card: Abundance Planning
As a Cancer, you're known for your emotional depth and sensitivity. This Taurus season, it's predicted that you'll have at least one heart-to-heart conversation with your Twin Flame that will deepen your connection and understanding of each other. Whether you need to express your feelings or listen to your partner's needs, peaceful and harmonious communication is key. Don't make assumptions. Take time to be present and compassionate with both yourself and your Twin Flame.
The Abundance Planning card indicates a major financial breakthrough! This Taurus season, write down your desires and affirmations and remain clear on your goals. You will be amazed at how easily your desires manifest in the physical when you are fully surrendered and not attached to the outcome.
Leo – Core Healing Leads to Deeper Love and Meaning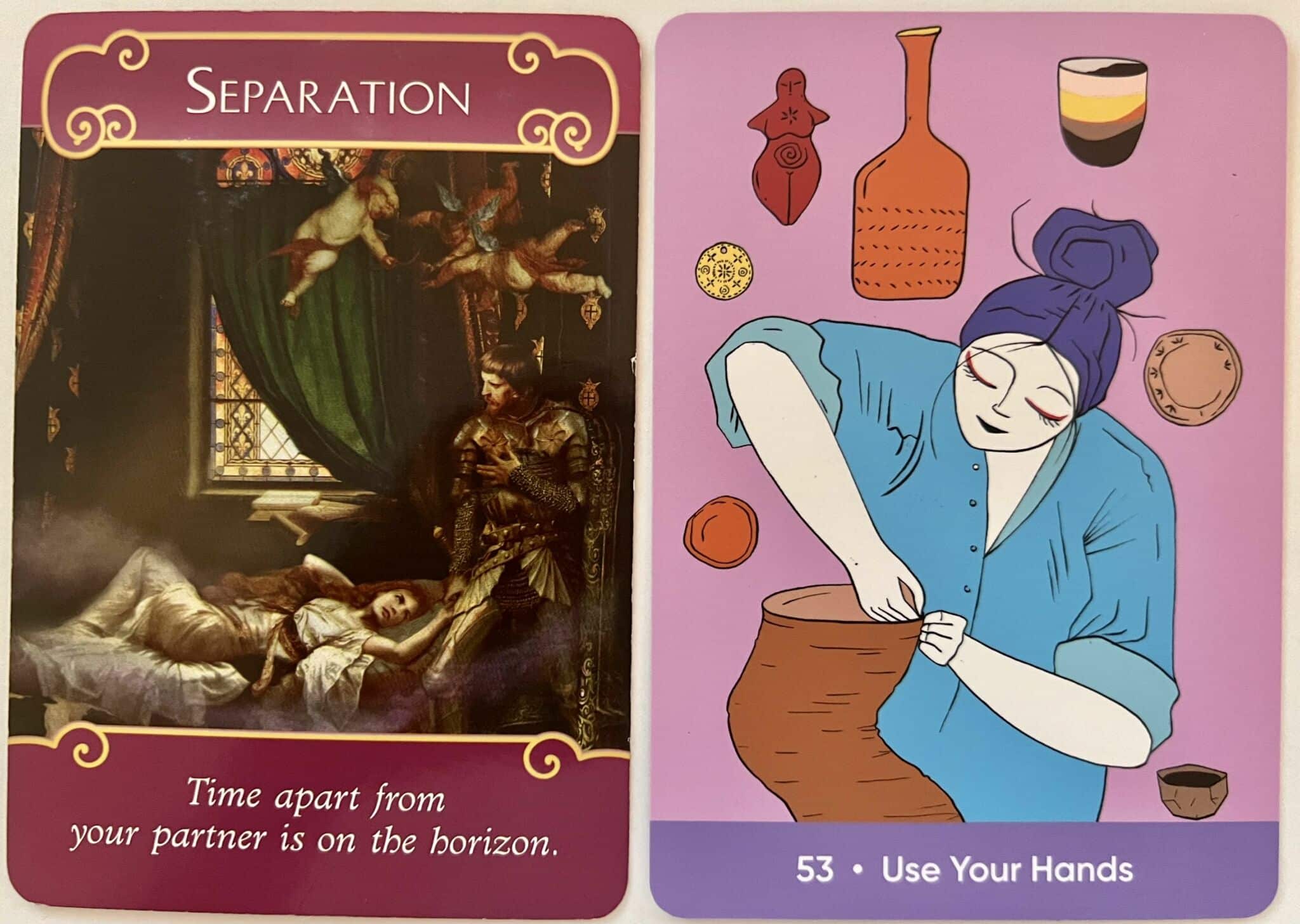 Leo (July 23 – August 22)
Theme Card: Separation
Self Care Card: Use Your Hands
This Taurus season, Leo, you will likely heal a core block in your Twin Flame Union. The Separation card is a great reminder that you are not separate from your Twin Flame, but actually share deep Oneness and spiritual intimacy. Once this core block is healed, you will feel so much closer and more in Love with your Twin Flame than ever before. You will feel the connection and intimacy much more deeply, no matter how things look on the outside.
The Use Your Hands card is encouraging you to create something beautiful and meaningful this Taurus season. Is there a hobby that satisfies your soul? Arts and crafts, pottery, or painting? Or maybe it's cooking, kayaking, or sewing. Whatever the activity, don't be afraid to apply your creativity and diligent effort. Oftentimes the journey is even more enjoyable than the destination!
Virgo – Your Intuition is Key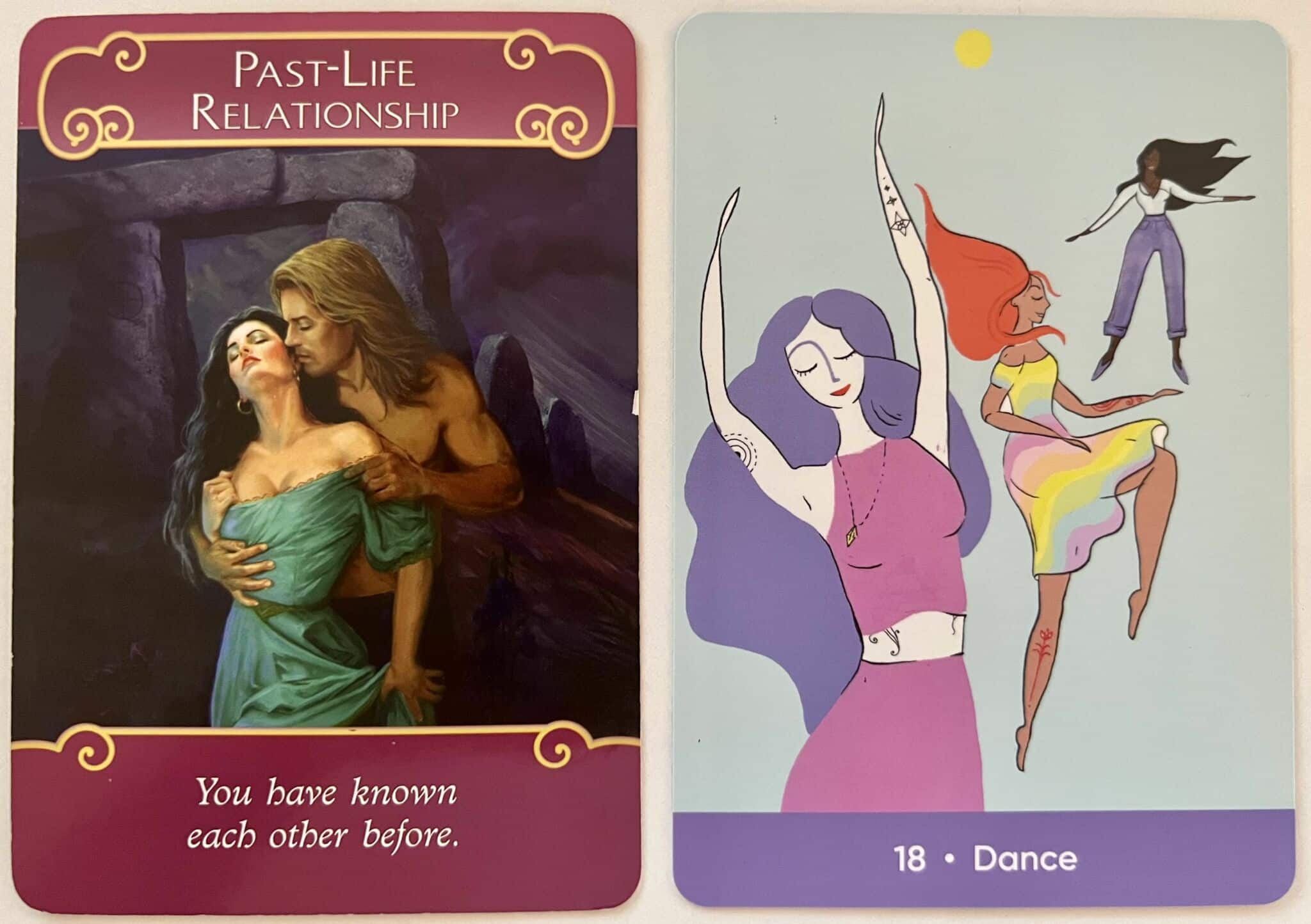 Virgo (August 23 – September 22)
Theme Card: Past Life Relationship
Self Care Card: Dance
Earth signs are feeling the Love this Taurus season, including mutable Virgo! The Past Life Relationship card confirms you know your Twin Flame even more deeply than you previously thought. You and your Twin Flame share a soul connection not easily understood or recognized by most people. You have a sense of familiarity and recognition with each other, as if you've known each other before. The Love is juicy and deep!
The Dance card is a reminder to not take life so seriously. Let your energy release with new dance moves, yoga, or flexibility exercises. Don't be afraid to turn on a song and sway to the beat. Stretch daily, so that you're always able to move your body freely. Life is so much better when you're dancing!
Libra – Surrender to Play and Fun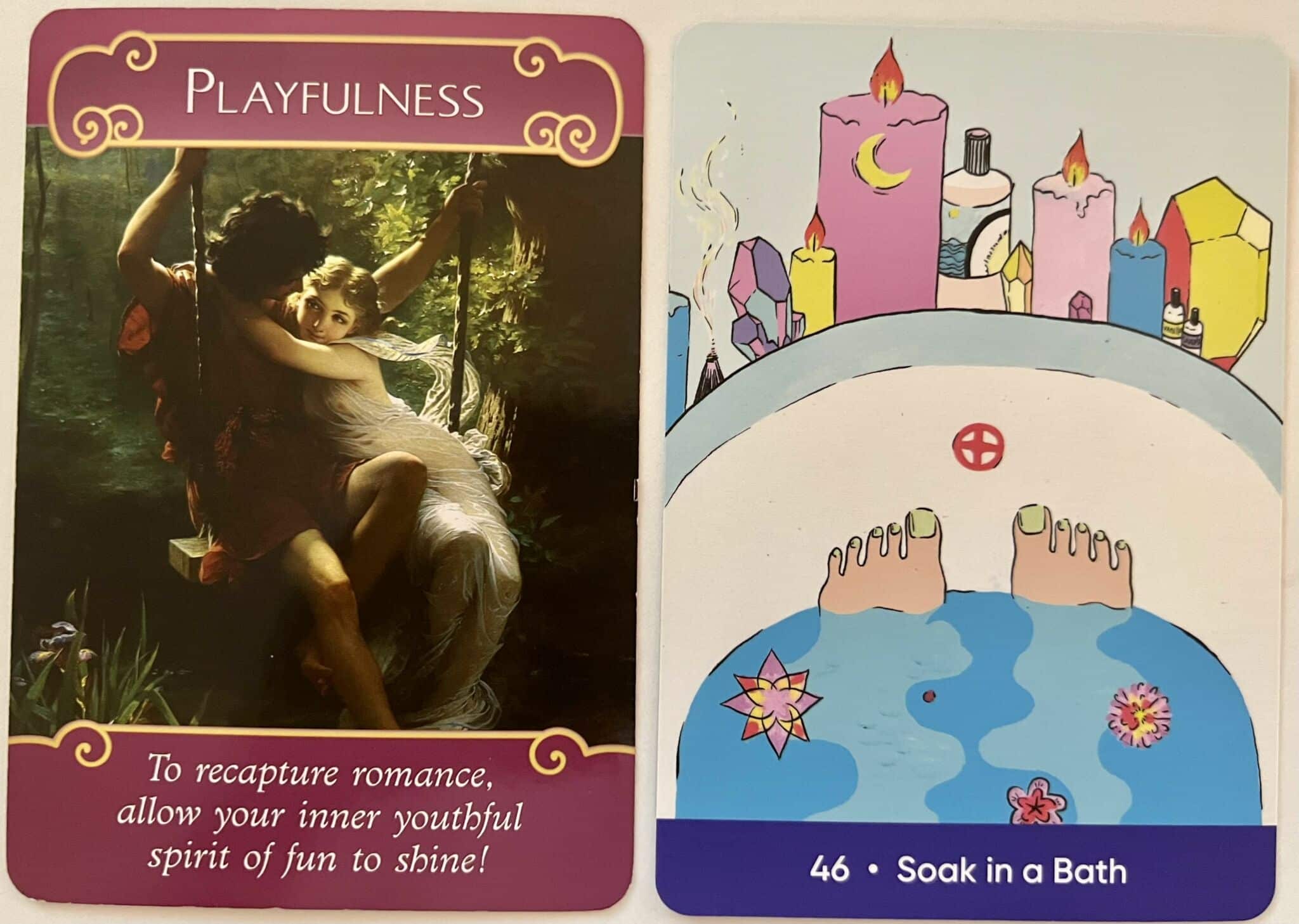 Libra (September 23 – October 22)
Theme Card: Playfulness
Self Care Card: Soak in a Bath
Libras during the Taurus season, will experience more connection and lightheartedness with their Twin Flames. Libras, your Union is a safe haven for beautiful and innocent Love. The Playfulness card encourages you to enjoy each other's company without any awkwardness, pressure, or expectations. Keep things simple. Consistently choosing to surrender deepens the Love between you and your Twin Flame.
To enhance your self-care routine, soak in a bath or take a long shower. Water is a healing element that can help you release stress and negative emotions. It's also a sign that transformation is near!
Scorpio – Romance Vibes Are On!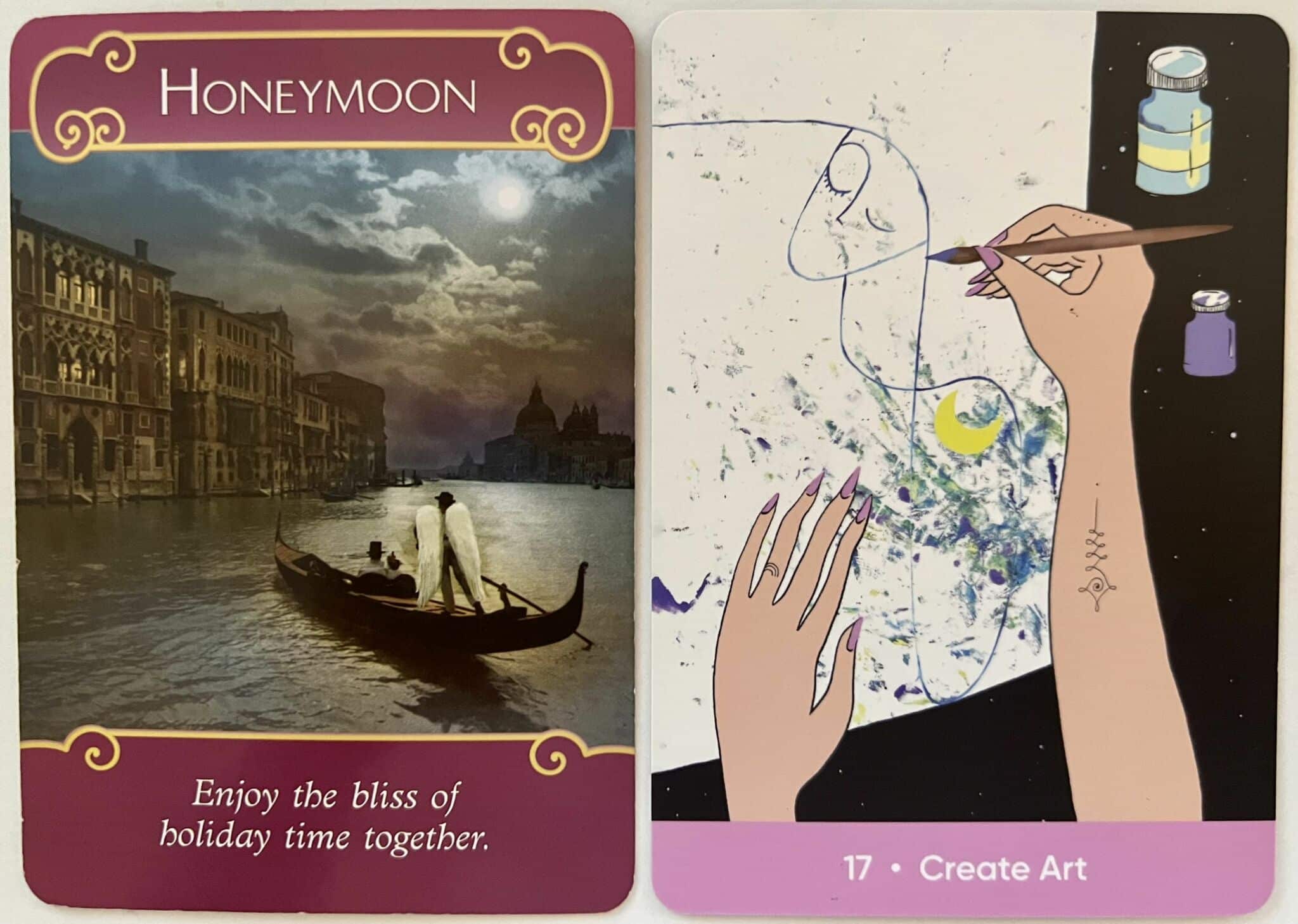 Scorpio (October 23 – November 21)
Theme Card: Honeymoon
Self Care Card: Create Art
As a Scorpio, you're known for your intensity and passion. This Taurus season, you'll experience a honeymoon phase with your Twin Flame, where you'll feel deeply connected and in Love. The Honeymoon card indicates that you'll enjoy romantic getaways, date nights, and other intimate experiences. If you are experiencing separation from your Twin Flame, use the Mirror Exercise to heal your core blocks to Love.
Your creative side desires to express itself! Do you enjoy making art? Whether it's painting, sculpting, building with Legos, or playing music – whatever the medium, don't be afraid to try. Allow yourself to be inspired. Let your emotions guide you in the creation of something beautiful.
Sagittarius – Feeling is Healing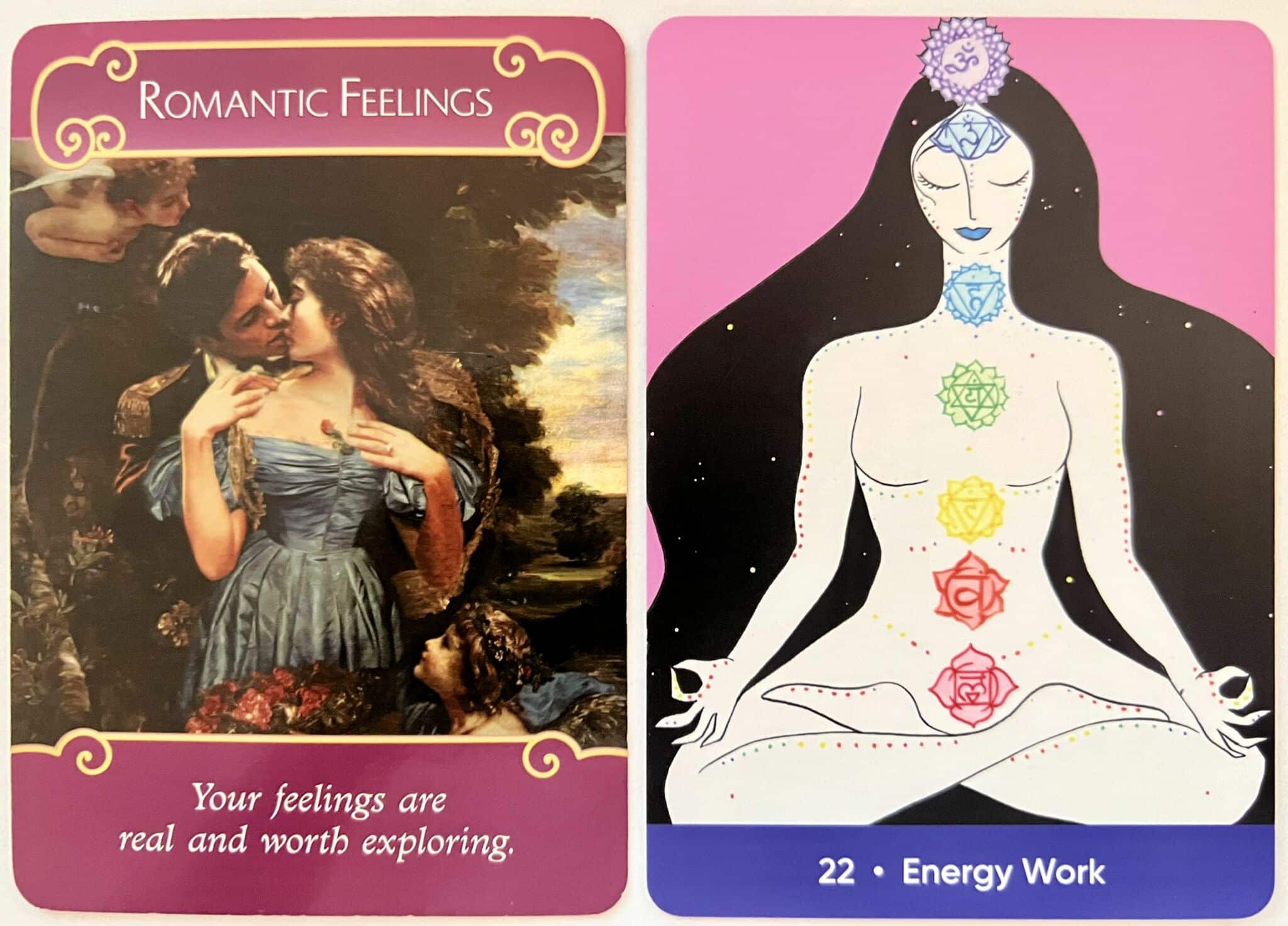 Sagittarius (November 22 – December 21)
Theme Card: Romantic Feelings
Self Care Card: Energy Work
Sagittarius is ready for Harmonious Twin Flame Union! This Taurus Season, you may experience some intense romantic feelings towards your Twin Flame. This card is a confirmation – your feelings are real and meant to be explored completely. Your Twin Flame may feel far away from you, but you may be surprised to find out how close they actually are. Surrender to the flow. Gestures of Love and affection will not go unnoticed!
To balance your energy and enhance your spiritual practice, now may be a good time to amplify your inner healing practicies. These could include Reiki, yoga, or chakra healing and will help you align your mind, body, and spirit. Your intuition is strong this season.
Capricorn – Effort is Essential!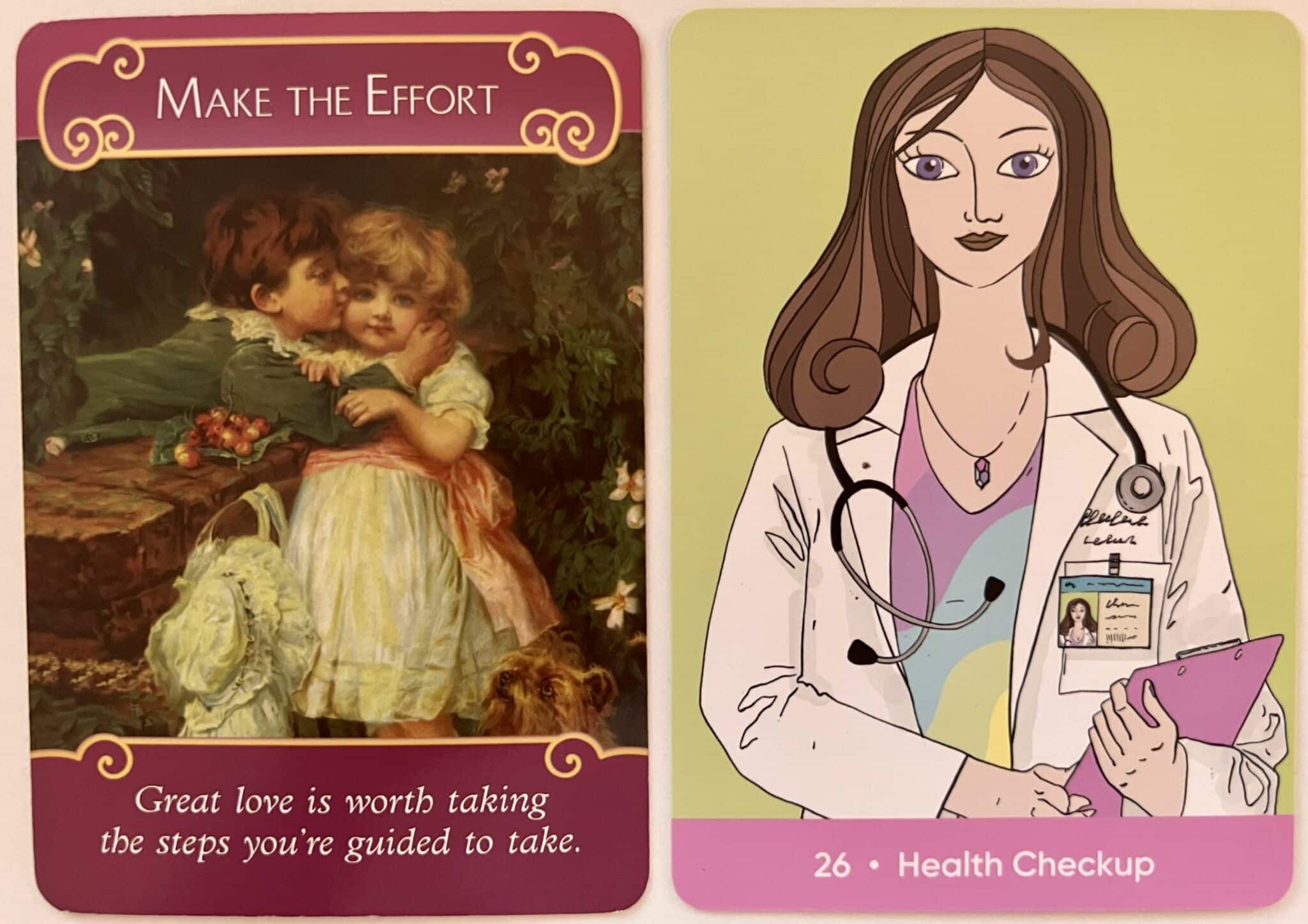 Capricorn (December 22 – January 19)
Theme Card: Make the Effort
Self Care Card: Health Checkup
As a Capricorn, you're known for your discipline and hard work. This Taurus season, you may feel a bit of resistance when it comes to loving your Twin Flame. Where do you feel there is struggle between you and your Twin Flame? Choose instead to cultivate peace, compassion, and surrender. The Make the Effort card invites you to be honest with yourself and your Twin Flame. Don't be afraid to put your Union first.
The Health Checkup card is a good reminder to check in with your body. How is your environment or physical body feeling to you? Stagnant energy will leave you feeling weak and drained. Prioritize thrival and growth. You may also like to set up a health appointment with your doctor, dentist, or other primary care physician at this time and address any physical ailments that need attention.
Aquarius – It Is Safe For You To Love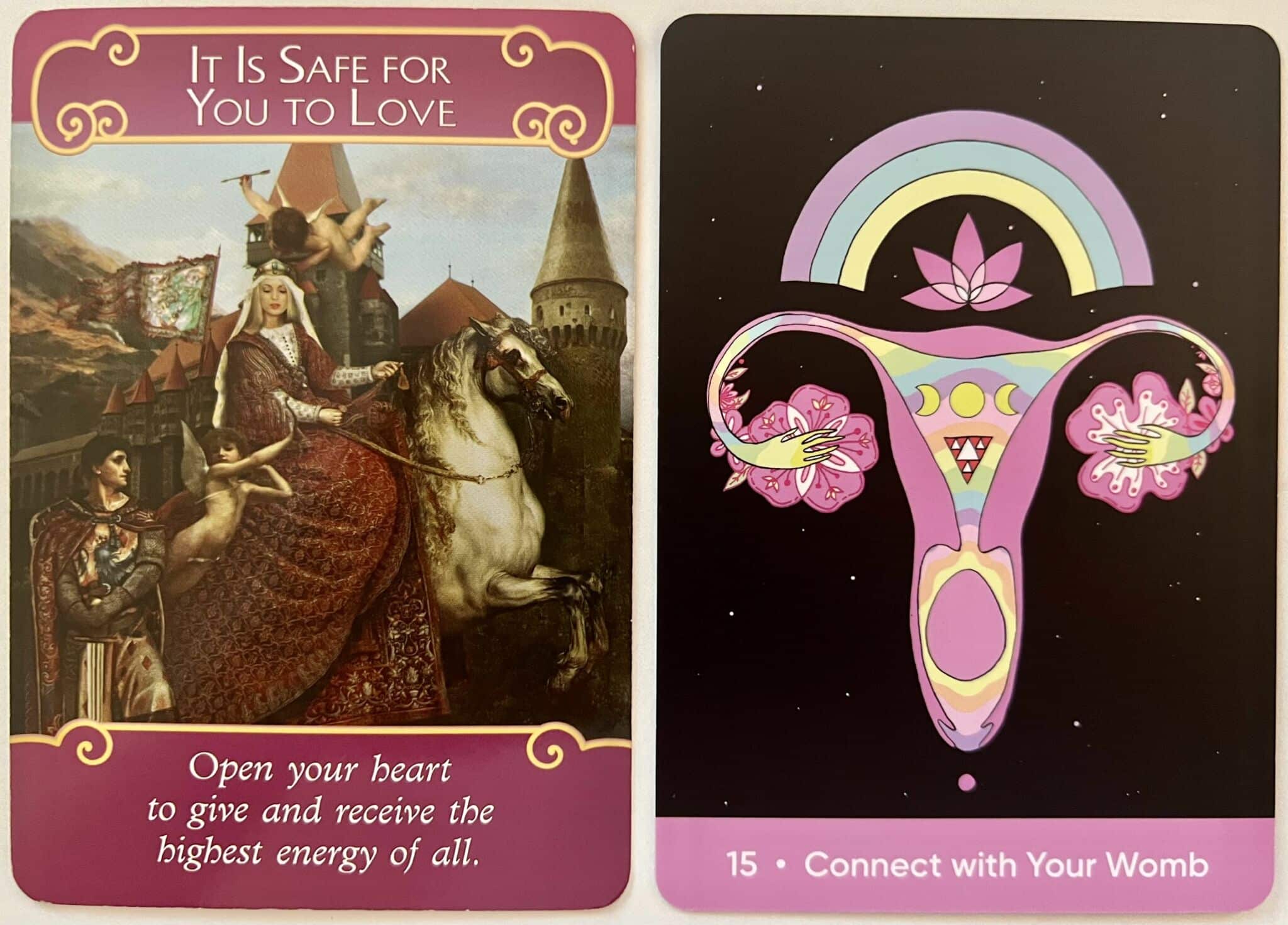 Aquarius (January 20 – February 18)
Theme Card: It Is Safe for You to Love
Self Care Card: Connect With Your Womb
This Taurus season, Aquarius, you'll experience a sense of safety and security in your relationship with your Twin Flame. The It Is Safe for You to Love card indicates that you can trust your partner and allow yourself to be vulnerable. This may feel new, but in Divine Truth, your Union has always been the safest place for you to be yourself. Let go of expectations. Your Union embraces you!
The Connect with Your Womb card is a reminder of the feminine, nurturing energy your soul needs at this time. Choose to connect more deeply with these soothing feelings in your heart. Meditation and visualization help you tap into your Harmonious Union within.
Pisces – Let Your Friends Help You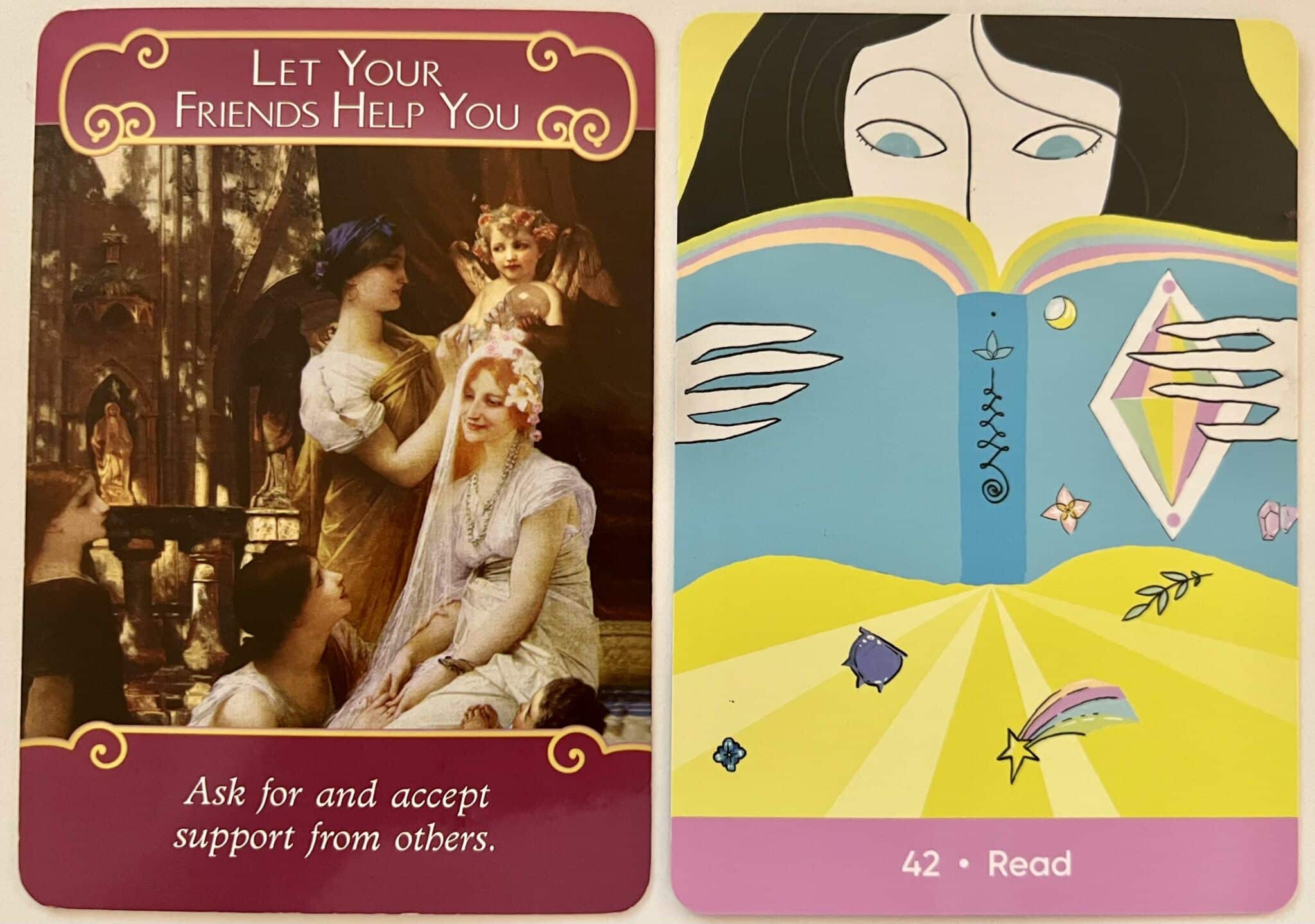 Pisces (February 19 – March 20)
Theme Card: Let Your Friends Help You
Self Care Card: Read
As a Pisces, you're known for your compassion and sensitivity. You are ready for Harmonious Twin Flame Union, but may feel unworthy or uncertain to claim it without support. This Taurus season, you are encouraged to rely on your friends and support system for guidance and advice. The Let Your Friends Help You card indicates that you don't have to go through challenges alone, and that your loved ones are there for you. Support for your Twin Flame Union is available to you now!
In terms of self-care, read books that inspire and uplift you. Allow yourself to escape into different worlds and perspectives. Let your imagination soar as you explore new ideas that encourage your sense of joy and wonder. Reading will help your inner child feel loved and celebrated, in similar ways to how Divine Union feels.
Final Thoughts
We hope these Twin Flame predictions for Taurus season 2023 have provided you with insights and guidance on Love, self-care, and spiritual growth. Remember to trust your intuition and follow your heart as you navigate your relationship with your Twin Flame. As always, astrology can provide a helpful framework for understanding your experiences and making decisions, but ultimately, you are the creator of your reality.
If you seek additional support on the Twin Flame journey, sign up for our free Twin Flame Introductory Course. May this Taurus season bring you love, joy, and growth in all areas of your life!
Written by Briana Manalo
Further Reading and Resources to Claim Your Twin Flame Union Now!