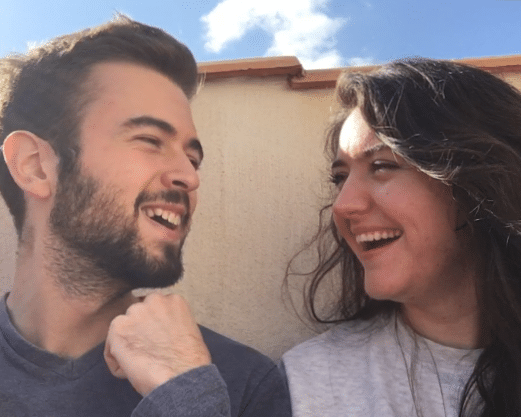 When I came into my Harmonious Union with my Twin Flame Jose, we pretty much immediately decided that I needed to move to Spain, as soon as possible.
When I first got to Spain, we didn't have a lot planned or figured out. The plan was to figure it out as we went. A few days in, we started looking for places to live together, as the current place was not a couple's friendly flat to rent and Jose's roommates were starting to be uncomfortable with my prolonged stay.
So, after many obstacles, we finally found a place to rent that was in our budget, couples permitted, and close to the beach. It wasn't permanent, and still would have roommates (though fewer), but it was the perfect place for us to get settled, focus on building our finances and stabilizing so we could find our own place just for us.
Change of Plans
Our plans were abruptly interrupted by the massive Coronavirus outbreak in Spain. It started out with a few cases, mild concern, and the occasional article showing up in my newsfeed with details on the virus. There didn't seem to be many infected in Valencia, and the whole thing seemed very far away.
We were aware it was happening, but we just carried on with our lives as usual. It's no small thing to come into your Harmonious Union and move in with your Twin Flame, and meet them for the first time physically in this lifetime all at once. For me, the transition to a new continent where everything is completely different was something that was requiring a lot of grounding and adjusting to European life. The last thing we were focused on was the Coronavirus virus.
In just a week, the number of infected cases had multiplied. Jose was starting to feel really worried about the outbreak and experiencing a lot of anxiety about it. It felt like the beginning of an apocalypse movie. Our roommates were freaking out, stocking up on groceries, and limiting their exposure to the outside.
At this point, I felt a little more alert to the problem but I still felt very detached from it and couldn't imagine myself being affected by this virus. I understood the way the law of attraction works, and I knew that at the core I was not choosing sickness, but still there was an ominous feeling settling over the city of Valencia as the virus continued to rapidly spread overnight.
Apart from the coronavirus outbreak, Jose and I had been discussing meeting his family as our next steps. But I had a lot of resistance to this idea. He'd told his younger sister about me, and at first she was really upset and didn't seem to support our Union at all. I felt sure that they would not accept me and would be upset because they'd been upset with Jose for being involved in the TFU community in the past. Not to mention I had my own upsets around family and home that were being triggered at the idea of meeting my Twin Flame's family.
But as the Coronavirus got even worse, they started texting and calling frantically, asking us to come to stay with them during Jose's two-week break from university. Their town was safe, small, and one of the few places in Spain without any cases of the coronavirus. I felt touched that they offered this to me, too. But still, I resisted and felt like it would be too uncomfortable. I also don't yet speak Spanish, and his parents do not speak English so the whole thing seemed too difficult and brought up a lot of anxiety for me. We avoided giving them an answer because both of us were working through fears and resistance.
When Jose spoke to his dad, though I don't speak the language, I could hear his concern for us in his voice. I was surprised and I felt loved by that. He told Jose that we would be able to stay for as long as we needed, that they'd let us use the car to go places, etc. They really were concerned and wanted us to go. Still, I felt hesitant and afraid to say yes.
One night, when the coronavirus outbreak was at its worst until that point and people were officially beginning to self-quarantine and stay off the streets, our roommates decided to throw a party and invite many random people. They ordered pizza and were drinking, and they invited us to join but we stayed in our room just to be safe. Although I wasn't experiencing fear or upset about the virus, I definitely understood that it's not intelligent to be so irresponsible and treat it like it's not happening. The logical part of my mind knew that it was important to respect that this is happening, even if I didn't feel afraid. We did not choose to be reckless.
That same night we read that towns and cities would likely be closed and roads would likely be shut down that weekend. That night, after completing a session with a client and talking to Keely (a fellow member of the Twin Flames Universe community), it became suddenly clear to me that we needed to go stay with Jose's family. I knew it was our next step. I was surprised at how it actually warmed my heart. I could feel this was where God was guiding us, so I decided to release my anxiety and insecurity about meeting his family and I told Jose we should go. I could see this made him happy and he felt relieved. I knew it was the right thing to do for us. It was important for me to meet his family and a good idea to remove ourselves from the irresponsible roommate situation.
Meeting Jose's Family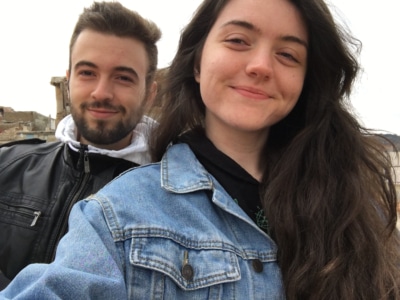 So, Jose called his family and told them that we decided to go stay with them after all. Due to the potential road closures, they told us they'd be there the next morning at 9 am.
I was like … Oh crap. It's happening. I started feeling anxious but I chose to just love myself and support myself. I surrendered the whole situation to God for healing and resolution.
We stayed up very late that night finishing the day's work and packing everything we needed, a bit frantically. We decided to leave some things because we were anticipating only staying for the duration of Jose's holiday from the university to wait out the coronavirus craze and have some healthy space from the city.
The next morning, I met his family and immediately felt my heart warming to them. His mom and dad gave me big hugs and kissed my cheeks, and his youngest sister ran up to me and gave me a hug and asked me what my name is in English.
When we were in the car and drove, I took notice of all the signs on the roads urging everyone to stay off the roads and to stay home due to the coronavirus. But even at this time, it didn't seem like a big deal. It still felt like a faraway issue to me, but Jose was feeling very upset about it and we continued to work through his fear of the virus. As we did, the virus got worse and worse.
Jose told me that the roads we were traveling on were usually full of traffic; but today they were all but deserted. It was my first time seeing this part of Spain and it all felt eerie and quiet, like a country full of ghost towns. I could feel the energy of withdrawal as people and families were just beginning the quarantine that would extend far beyond what any of us were expecting.
Quarantining in Jose's hometown and grounding into our Harmonious Twin Flame Union
Several days into our stay, the Coronavirus situation in Spain was rapidly worsening, but again the seriousness of the situation had not fully sunk in. I was processing a lot; meeting Jose's family, grounding and relaxing into my deep love for my Twin Flame as I got to know him better.
We were already quarantining ourselves; but within a few days, it was announced that anyone caught outside for non-essential reasons would be fined up to 30,000 euros and that we could only leave to travel to pharmacies and grocery stores, as well as to walk our pets.
At this point, I was definitely aware of the threat of Coronavirus and completely on board with taking all preventative measures to stay safe from the virus, though I still felt unaffected personally despite the quarantine. I felt in my heart that something really big was happening and I felt deep gratitude to God because He brought us together to have this experience. I felt very close to my Twin Flame, and though there were many upsets to work through, it truly is a blessing to spend this quarantine with him as we continue to deepen in our Harmonious Union and grow together.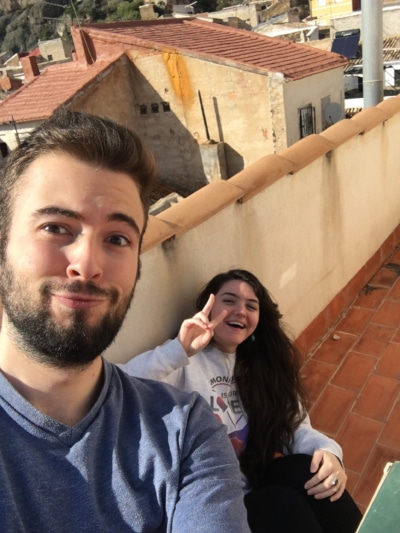 We only had time to go on one walk together in his town before the quarantine became strictly enforced. During that walk, I realized that Jose's hometown was very similar to where I grew up. The city I grew up in was settled by Spanish colonists and I realized that God had been preparing me for this move my whole life. Everything was new and different, but also very familiar and close to my heart. We had been working through an upset since meeting each other because it seemed like Jose and I came from such different backgrounds. I realized this is not true at all as I experienced his hometown and met his family and saw where he grew up. I saw clearly how we had manifested very similar places. Even the landscape in the south of Spain is very similar to the landscape of New Mexico.
Days into the quarantine, we found ourselves really struggling to find a proper routine. We ended up staying up really late every night, and sleeping in very late, and feeling sleepy often. It felt very disorganized and not supportive. Before HTFU, both Jose and I had structured schedules and were very grounded in our own routines, so we found that coming together shook all of that up. Being quarantined in his family's home really challenged us in this area as well. For me, it was a huge lesson in giving myself all the support that I need even when I'm in a new place that feels totally foreign to me.
Rooting out fear of Coronavirus
Days continued to pass, and Coronavirus cases skyrocketed. Spain went into a state of emergency and the fine for being caught outside doubled to 60,000 euros. The number of cases quickly brought the country to Europe's second most affected country, and fourth in the world. In just a few days, it overtook Iran and became the third most impacted country in the world. Then, the number of dead overtook China's and kept climbing.
Sunday, March 22nd rolled around, and the topic for Jeff and Shaleia's sermon in the Church of Union Sunday Service was the spiritual meaning behind the Coronavirus. I felt deeply comforted as I realized that truly the lesson for me personally through all of this was in fact connection and oneness, and relating to my Twin Flame and his family.
Several days later, we were watching the news after lunch and Jose told me they were predicting that 800,000 people in Spain would become infected by the coronavirus. At that point, there were only 400,000 recorded cases in the whole world. It was at this moment that the gravity of the situation truly hit me. He also told me that they were anticipating that the quarantine could be extended by at least two months. The coronavirus had not yet made it to our town, but there were several cases reported in the next town over.
I began feeling heavy anxiety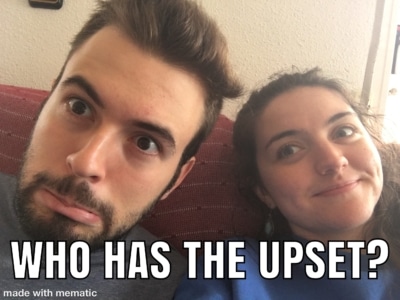 pressing on me, and I just sat on the couch truly processing that this is serious. It felt like I was surrounded by the "enemy" and it was closing in on us. I felt trapped and powerless at that moment. But, I remembered Jeff and Shaleia's words about how it is not appropriate to be afraid of the virus, but instead to fully honor God's gift of life, to be responsible, and do your part to prevent the spread of the illness.
That night Jose got a news alert on his phone saying "The Worst Is Yet To Come" and again I had to work through feelings of panic and fear, which I successfully worked through using the Mirror Exercise. Once again, Jeff and Shaleia's sermon about the virus brought us a lot of relief and comfort, and each time panic came up we successfully resolved it with the understanding that we do not choose the separation this virus is highlighting.
Every night at 8 PM, a car playing loud music drives through the town and people go onto the balconies to clap. It livens the spirits and reminds us all that we are not alone and that there is great togetherness in the face of a massive global pandemic. That's the whole point – to remind each other that we aren't separate from one another, and the choice to be separate actually feels really bad.
About 15 days into the quarantine here, our afternoon was interrupted by a broadcast announcement being played from giant speakers attached to a trailer pulled by the law enforcement driving up and down the streets. They were urging us to stay indoors now more than ever because the first case of Coronavirus was reported in our town. Previously we had been one of the only non-infected towns in the region. It turns out, over 500 people could possibly be infected due to interaction with the person who contracted the Coronavirus here, which is one out of every 30 people. Everyone stepped out of their balconies and listened as the police drove through the streets playing their broadcasts. Though it was sobering news, something still felt nice that we were all unified and going through it together.
(1) Every evening, law enforcement drives through the town playing music and sounding off sirens to lift the spirits of the quarantined families and to remind everyone that we're all going through this together.
(2) Law enforcement drives through the streets announcing residents that the first case of coronavirus has been confirmed and it's possible over 500 people have been in contact with the virus. They urge us to have faith, stay strong, and remain inside with our families.
They were saying in Spanish,
"We know it's hard, but have faith. Stay indoors and keep you and your families safe, don't give up now."
It was very sobering and kind of ominous, but I felt grateful and optimistic. The entire coronavirus outbreak has coincided for me with the most important part of my life – coming into my Harmonious Union and learning to go deeper in connecting with God. We know God is in charge here and we refuse to separate ourselves from the world and become isolated.
Instead, we've been focusing a lot on happiness and our Life Purpose work, deep spiritual work, family healing, bonding and connection. There is something about being quarantined that ignites your creative passion too.
We're blessed to have a roof here at Jose's family's home, which is a good size and has a beautiful view of the whole town. Their attic is also full of many different games and things to do for fun, so we go up often. We use the roof to film our YouTube videos, do inner work, or just get some fresh air.
Overall, my time in quarantine with my Twin Flame has taught me many lessons, but the most important is how at the end of the day, God is truly all there is. When everything outside of you is going crazy, and suddenly you find yourself confined to your home without the ability to even go for a walk, it really puts things into perspective. It truly shows you that nothing brings you happiness but God. God is the source of all happiness, and because of that, you can find happiness anywhere.
As the quarantine continues, and as Coronavirus continues to spread, I am reminded every day that God is the Most High, and that I choose only God's Plan for me. I choose perfect health and to be responsible, to stay indoors, to do my spiritual work diligently, and of course to love my Twin Flame.
Jose has been the most patient, kind, and loving partner that I could ask for. We are deepening in friendship and love daily, and exploring our Union, connecting, and just enjoying being together. He's dealt with me becoming extremely grumpy and stir crazy, sad and upset, and just loved me through it the whole time.
It's also put our Union to the test and revealed to us just how well we get along, and how we are absolutely designed to be together always. We've basically not been apart for the entire quarantine, and it feels totally normal and beautifully harmonious. Spending this much time with anyone in the past, especially past relationships, would usually drive me crazy. With my Twin Flame, I feel an endless depth of connection and togetherness that actually only expands and goes deeper. It's fun to see all of Jeff and Shaleia's work and teaching prove to be true time and time again as we live it and embody it fully.
It has shown me the endless depth of patience and compassion God has for His Children. Every day I spend in quarantine with my Twin Flame is my new favorite day, because we are always going deeper together in love and discovering more and more about one another. Every time I've been upset and expected to be abandoned, my Twin Flame has been right there for me and I am always right there for him. It's shown me the value of just being present with love and choosing to connect.
This time is important for all to remember the beauty of connecting with one another. It's important to share, to have faith, to love, and to continue on with life as this epidemic continues, and soon will be resolved. There is nothing more powerful than love, so let this be an opportunity for all to prove the power of God in our lives. Let this time be the fast track to your Harmonious Twin Flame Union.
As the days pass, we go deeper. We don't really know when this quarantine will end, but we do know that it's God's love that keeps us safe and sustains us. We know that the inner work works, and I am enjoying feeling the whole world united in the face of this pandemic, and I feel blessed to be on this adventure with my one true love, my beloved Twin Flame.
For those on the Twin Flame Journey, but not spending quarantine with your Twin Flame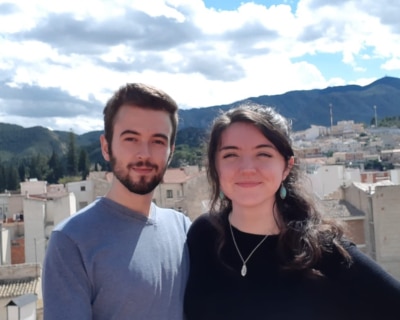 Your Twin Flame is always with you. They are absolutely spending every moment with you because they are one with you. This time is actually the best opportunity to go deep within yourself and find out where you are still experiencing separation from yourself, which results in physical separation from your Twin Flame. This time of inner reflection is for you to use to truly heal, to focus on your spiritual work, and you'll find that it's the inner work all along that attracts them to you in the first place.
You are not lacking anything, and you don't need anything outside of you to be happy. Your Twin Flame does not bring you any feelings of happiness that you don't already cultivate within yourself.
God uses any situation for your benefit, so you can ask Him to show you how to grow closer to your Twin Flame during this time. When you have much more time than usual, when you're alone with your thoughts, you are going to be faced with your consciousness on a deeper level, and therefore presented with a unique opportunity to dedicate yourself fully to your Harmonious Union with no "outside" distractions.
Quarantine at home is the perfect and most supportive environment for doing your spiritual work, which is the direct way to achieve your own Harmonious Union. I've really been learning the value of spiritual discipline and the importance of having a daily spiritual practice.
It's safe to go through this change, and it's safe to claim all of your good. We don't know when this will end, but we do know how to make it the very best, and turn a grave-looking situation into something miraculous – with your inner work! Your Twin Flame is you, so get good with yourself and you'll be ready for anything.
Stay connected friends, and stay positive. Only good things are coming. 🙂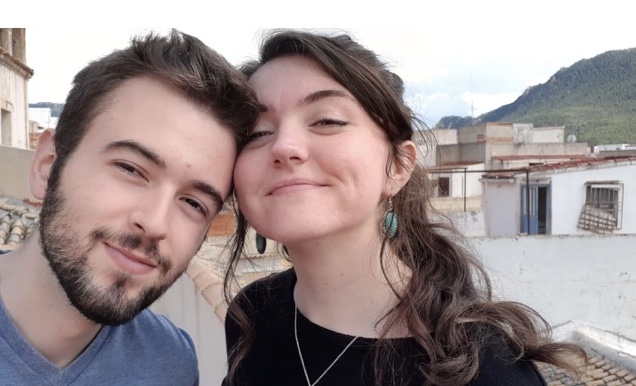 About the Author
Michaila is a direct student of Jeff and Shaleia and lives in Harmonious Union with her true Twin Flame, José. She is a Certified Ascension Coach with Twin Flames Universe and is dedicated to helping others heal separation from their own Twin Flames so they too can enjoy their perfect lives of love. Watch her story and heal alongside her with the Twin Flame Ascension School One Class Pass.