Twin Flames coming together after a 3rd party relationship, or coming together despite the distance between them… these are the miracles we all want to read about. And this is the kind of real life happily ever after that Twin Flames have found because of the work of Twin Flames Universe!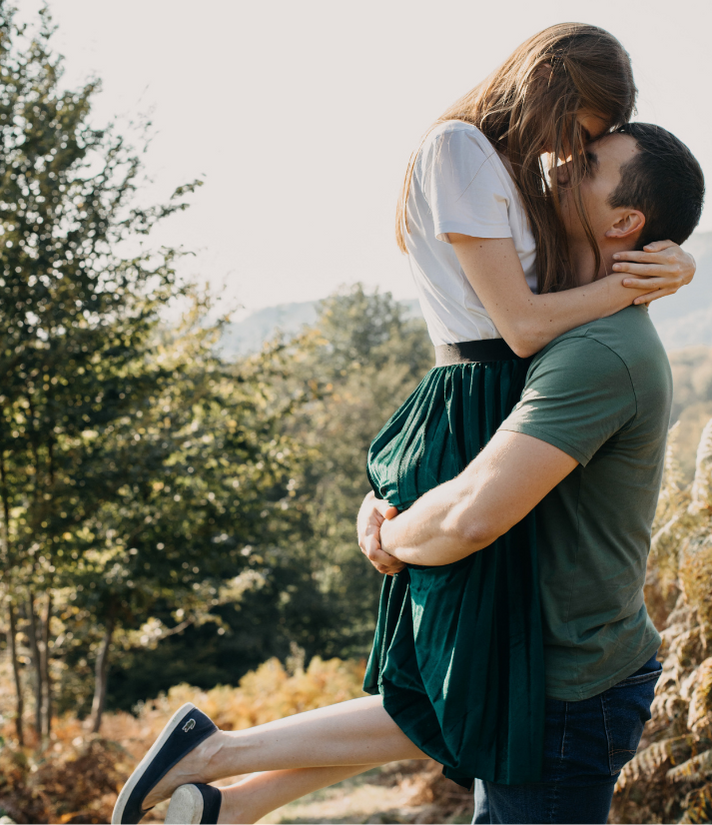 It's a false notion to think that Twin Flame connections are all horror stories of pain and suffering which only end in going back and forth between being together and separation. Twin Flames are meant to be together. And this is the one love that actually can move mountains and produce miracles.
How could we be so certain, you might ask? Well, that's because we have a whole community of Twin Flames in Union and Harmonious Union who have faithfully taken the journey Home to Love.
We've selected a few Unions to introduce to you here which we feel will help to bring you greater insight on topics and challenges that lots of Twin Flames are facing at this time. We hope you will feel encouraged and reassured by these stories and maybe even inspired to follow in their footsteps.
Union After A Third Party Relationship
One of the biggest concerns Twin Flames have is, "How can I be with my Twin Flame if one or both of us is in another relationship?"
This question is answered in detail by Laurentiu and Alexandra in their fascinating podcast. They explain perfectly the dynamic that played out between them which caused one of them to experience a third party relationship. 
Having met at University, both choosing to study the same course, they developed a strong friendship. Although Laurentiu did declare his true feelings, Alexandra was already in a relationship.
As her Twin Flame, Laurentiu, chose to continue healing and offered his unconditional friendship, this helped Alexandra to have the safe space she needed to review her third party situation. After this period of time assessing her third party relationship to see whether it really was able to grow in the way her heart desired, Alexandra eventually surrendered to the truth. The love and attraction she felt was undeniable, Laurentiu had been there in her heart all along. She surrendered and just chose to, 
"Let it be easy." 
Looking back and reflecting on their time of separation, Laurentiu and Alexandra share:
"…we were coordinated all the time. It's kind of crazy how well aligned and One we were in the choices we made to meet each other."
You and your Twin Flame really are making the same choices. It can be easy for you to release a third party and have your Union too. Tune into this fascinating podcast to go deeper on this topic.
Long-Distance Union
Some Twin Flames in separation wonder, "Does physical distance from my Twin Flame make it difficult or impossible for us to be together?"
The answers are revealed for us in this next love story. Valentina is from Scotland and Madhu is from India. Living on two separate continents meant they would, most likely, never have met in person. But luckily for them, the Divine knows no limits.
As Madhu began researching everything to do with Twin Flames and joined the Twin Flames Universe community and Teachings, so too did Valentina. Simply following the pull towards love in their hearts, and honoring their feelings, they found themselves in the same community, studying the same Teachings.
They each realized that they held trauma in their consciousness, so they, once again, chose to heal it with the Mind Alignment Process (MAP) healing program and came face-to-face in the healing after-care sessions. With deep commitment to their healing, Madhu shares,
"It's a vibrational journey. I was almost 3 years into the inner-work so we had a good foundation… and then it just clicked."
Not yet recognizing each other, and trusting the inner-work, neither of them knew the Divine was at work and ready to peel away the veil to reveal the truth. 
Tune into this incredible podcast and story of long-distance lovers. Watch how the Divine dissolves all obstacles to love while you do the inner-work.
Same-Sex Union
Perhaps you're unsure if you are the Divine Masculine or Divine Feminine in your Union. Or maybe you've never been in a same-sex Union but your Twin Flame has awoken you to new and unexpected feelings of attraction. Some of you may be wondering, "Are there any differences in the healing process for same-sex Unions?"
These well-traveled and scientifically-minded Twin Flames reveal their unique love story which will help to answer your questions perfectly. When Stephanie joined Twin Flame Ascension School, she didn't realize she was experiencing a false Twin Flame connection. She faithfully followed the path of healing and 2 years later, Kiran also joined the community. But, it wasn't yet time for them to be revealed as true Twin Flames.
With each of them committing deeply to their healing, they soon found themselves going through the Mind Alignment Process (MAP) to release their traumas at almost exactly same time. As Kiran healed through his resistance to claiming his true polarity as Divine masculine energy, Stephanie also released deep wounds within herself.
Throughout their healing process, their shared love of health and nutrition and the body's assimilation of food had led them to volunteer for Divine Dish, but still the truth remained hidden from them.
Then one day, the energy felt different and it was time! When Denis, the podcast presenter, asked Stephanie what message she would give to herself at the beginning of her journey, Stephanie, with great emotion, says:
 "Never give up. It will all make sense to you one day. It will all be better than you could ever even imagine."
This podcast brings to light the powerful and inspirational journey of love for this same-sex Twin Flame couple, all the way into Harmonious Union.
You can find more of our featured Twin Flames: The Great Spiritual Awakening Podcast, presented by Denis, posted every week on all podcasts platforms channel. 
Hearing the deeply loving stories of Twin Flames coming into Union, and overcoming seemingly impossible obstacles, is exactly what we need to keep the faith. Are you curious to know more?
Here's how they did it.
The Teachings of Union are so successful at bringing Twin Flames together because they are based on a well-proven and easy to apply practical and scientific process of healing. The healing process aligns you with the vibration of love and helps you to release the doubt and fear permanently. Once you know how to balance your energy, it's simple. All it takes is your choice to commit and to never give up.
It is so reassuring to know that, using these Teachings, many many Twin Flame couples have achieved Union and Harmonious Union. We are delighted to share with you some of their precious stories and sacred miracles. Each of these Unions wants to share their experiences and journey with you to uplift you and give you hope. This is a celebration of Twin Flame Union and you can have this too. 
Claim your own successful love story by signing up for our free Introductory Ascension Course today!
Further Reading and Resources to Claim Your Twin Flame Union Now!