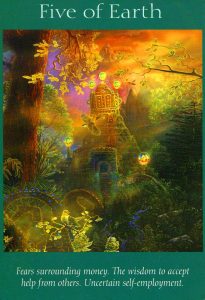 "The key to abundance is meeting limited circumstances with unlimited thoughts." – Marianne Williamson
We conclude this week with the precious reminder that
what you focus on becomes your dominate vibration.

 The story you tell yourself is the story that brings about your reality, and when we change our story, we realize that we don't die but the old way of thinking and Being does.  We need not fear change, because in order to grow we must expand out of the old story and into the new story of our lives.  We go on and claim the new vibrational reality.  The reality that lives in our Heart.
Your focus on lack in your reality is a projection of you feeling bad in your life and this is mostly due to beliefs and experiences you picked up from your parents in your childhood.

 You feel upset within and then say, "It's because I'm not in my harmonious Twin Flame Union, my finances are not where I'd like them to be, I'm not living my life purpose, my relationships are out of order, my job is unfulfilling, my body looks awful!"  All of these thoughts have nothing to do with the "thing" itself, but everything to do with choosing to not yet release your old story and see that it's a result of old childhood pain, and embrace the truth, that you are loved and everything is working out in perfect Divine Order.
Heaven is always offering you assistance in regards to your Twin Flame Union and to other areas of your life, but YOU must choose to accept and claim that help.  
As a Divine Being you are naturally designed as a genius to succeed,

remember that this is who you are.  Take a moment right now and claim your full support. Breathe.
Trust that when you choose to align with love, God leads the way for you to easily and perfectly enter your harmonious Twin Flame Union.

These upsets you have about your life are only temporary and you can deeply heal them by realizing that your inner child is hurt right now and needs YOUR love and loving.  You can also imagine your inner child being held, loved, and supported by Mother/Father God.  When you do this, your brain accepts this experience as real (which it is), and you rewire your old synaptic pathways that have been programmed to feel bad and for you not to succeed in your life, to being one that is completely and perfectly loved and supported all along.
Believing and Supporting Your Journey Into Harmonious Twin Flame Union & Beyond,
~

Jeff and Shaleia

~
You can fast-track directly into your harmonious Twin Flame Union in our Twin Flame Ascension school. For more information please click HERE.
---
Today's reading is courtesy of Doreen Virtue and Radleigh Valentine's "Angel Tarot Cards."
---
Jeff and Shaleia are true Twin Flames in harmonious Union.  This is currently a very rare experience on this planet although their pioneering work in Twin Flames is changing this statistic.  In their Twin Flame Ascension School they are teaching the truth of Twin Flame Union as a direct Ascension Path to the Divine.  Committing to your harmonious Union is in actuality committing to your spiritual path of Ascension, in other words, dissolving your ego and claiming your Divinity fully at the right side of your Mother/Father God.
Jeff has his BBA from Western Michigan University and has created businesses in the past based on self-development and lifestyle design.  Shaleia attended Laurentian University for Psychology with a minor focus on Women Studies.  She has a degree in Graphic Design and graduated with Honors in Digital Photography and Imaging at Georgian College.  She consciously began her ascension path when she was 18 years old with her studies in Taoism, A Course In Miracles, Channeling, Reiki certification, and other forms of energy healing work.
Shaleia met her spiritual teacher in Sedona, AZ in 2012 where she began healing separation from her Twin Flame with the spiritual tools and knowledge that were passed down to her.  Jeff joined her sessions later on and they have now mastered their harmonious Twin Flame Union which has enabled them to teach it to others.  They got married in January 2016, and have a sweet golden doodle puppy named Charlie.
They are authors of the beloved Twin Flame book: "Twin Flames: Finding Your Ultimate Lover," on Amazon.  Jeff and Shaleia developed two ecourses to assist you into your harmonious Twin Flame Union: Their first 24 lesson course guarantees harmonious Union is "Twin Flames: Dreams Coming True."  Their 8 lesson course called "Twin Flames: Romance Attraction" teaches you how to develop true love within to increase your magnetism and beauty for manifesting and deepening your Twin Flame Union.  This course also guarantees your harmonious Twin Flame Union.
---
"Many a man curses the rain that falls upon his head, and knows not that it brings abundance to drive away the hunger."  – Saint Basil
---