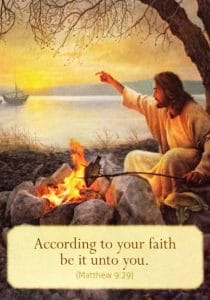 "Believe in yourself! Have faith in your abilities! Without a humble but reasonable confidence in your own powers you cannot be successful or happy."  – Norman Vincent Peale
This is how the story goes:  "27 As Jesus went on from there, two blind men followed him, calling out, "Have mercy on us, Son of David!" 28 When he had gone indoors, the blind men came to him, and he asked them, "Do you believe that I am able to do this?" "Yes, Lord," they replied. 29 Then he touched their eyes and said, "According to your faith let it be done to you";30 and their sight was restored."
According to your level of faith (confidence in the Divine and in yourself), anything you desire can come into being.  The immediate manifestation of the healing of the blind men only came to pass because their belief was perfect and absolute. It was the perfect Christ Consciousness in Jesus that allowed the healing to occur instantly rather than over a long period of time.  The blind men held perfect belief, and they had faith in Jesus and in the healing power of God through Jesus. So, through the Law of Attraction, they experienced the result of their perfect belief.  They claimed their vision and claimed the Truth of God, so their eyesight was restored.
If blind men can experience seeing again through faith and the deliverance of perfect Christ Consciousness, then do you not think you can be relieved from separation from your Twin Flame and enter into Harmonious Union permanently?  If these blind men received a miracle from God, can you not also receive a miracle from God and be reunited with your Divine Beloved? According to your faith, it is so! Claim your faith and claim ALL the Love and Good your Creator has to offer. Claim your Union and relationship with God, and you will have claimed your Harmonious Twin Flame Union completely.
Remember this: without God, harmonious Twin Flame Union is impossible. But with God, all things can come to you that you desire and ALL is possible, especially your Harmonious Twin Flame Union. You must choose faith and know that when you do, then you can expect miracles in your life.  This is a scientific process that is seen throughout the bible and other religious and spiritual texts.  You too can look back on your own life and recount the times you had faith in something and then it happened. You were safe, you were supported, you were protected, you were truly loved, and you STILL are.  God never leaves His Beloved Children.  To believe in this would make it so, but God has no concept or understanding of separation because God did not create separation, and if He did it would be real.  The power of your belief makes anything so. Focus on only Divine Truth, and you too shall see as the blind men were able to see.
Knowing That Believing is Seeing,
~ Jeff and Shaleia
Further Reading and Resources to Claim Your Twin Flame Union Now!
Start here with our Free Twin Flame Ascension Introductory Course to help lay the spiritual groundwork for your union.
Learn more about Twin Flames and healing separation with the book Twin Flames: Finding Your Ultimate Lover
A Twin Flames Universe Certified Ascension Coach can expertly guide you through healing the blocks that present along your journey.
You can fast-track directly into your Harmonious Twin Flame Union with recordings of Twin Flame Ascension School.
Additional Blogs:
---
Today's message is courtesy of Doreen Virtue's "Loving Words From Jesus."
---
Jeff and Shaleia are true Twin Flames in harmonious Union.  This is currently a very rare experience on this planet although their pioneering work in Twin Flames is changing this statistic.  In their Twin Flame Ascension School they are teaching the truth of Twin Flame Union as a direct Ascension Path to the Divine.  Committing to your harmonious Union is in actuality committing to your spiritual path of Ascension, in other words, dissolving your ego and claiming your Divinity fully at the right side of your Mother/Father God.
Jeff has his BBA from Western Michigan University and has created businesses in the past based on self-development and lifestyle design.  Shaleia attended Laurentian University for Psychology with a minor focus on Women Studies.  She has a degree in Graphic Design and graduated with Honors in Digital Photography and Imaging at Georgian College.  She consciously began her ascension path when she was 18 years old with her studies in Taoism, A Course In Miracles, Channeling, Reiki certification, and other forms of energy healing work.
Shaleia met her spiritual teacher in Sedona, AZ in 2012 where she began healing separation from her Twin Flame with the spiritual tools and knowledge that were passed down to her.  Jeff joined her sessions later on and they have now mastered their harmonious Twin Flame Union which has enabled them to teach it to others.  They got married in January 2016, and have a sweet goldendoodle puppy named Charlie.
They are authors of the beloved Twin Flame book: "Twin Flames: Finding Your Ultimate Lover," on Amazon.  Jeff and Shaleia developed two ecourses to assist you into your harmonious Twin Flame Union: Their first 24 lesson course guarantees harmonious Union is "Twin Flames: Dreams Coming True."  Their 8 lesson course called "Twin Flames: Romance Attraction" teaches you how to develop true love within to increase your magnetism and beauty for manifesting and deepening your Twin Flame Union.  This course also guarantees your harmonious Twin Flame Union.
---
"Faith is not simply a patience that passively suffers until the storm is past. Rather, it is a spirit that bears things – with resignations, yes, but above all, with blazing, serene hope."  -Corazon Aquino
---